Baby Buster Brown
Jun 08
(Source: mammalingo)
May 20
Now that I'm 1
Birthday Photo's!
The Birthday Boy:
Lincoln knew everyone was here just for him, and he couldn't have been happier.
With Birthday Balloon!
It was a giant Strawberry. Lincoln loves the color red (and he loves strawberries) and it was perfect for the Hungry Caterpillar theme!
With Uncle Brennan:
Birthday Cake!
By myself and Jen C.
Inspired by Coco Cake Cupcakes
Caterpillar Cake Face!
Show with one of our invitations, made by Shawn!
More pictures of the birthday boy, guests, and the awesome decorations (made by me!) to come soon.
May 15
Apr 27
New hat for summertime zoo trips!
Apr 19
jmconley said: Oh my goodness you have teeth! How many?
Six! 
Four on the top and two on the bottom =D
Apr 18
Hurray it's Spring!
Apr 17
Do you see where eight hours is called "a good night's sleep" by the NY Times? I'd call eight hours of sleep a freakin' miracle of epic proportions. A little slice of heaven served on fine china.
Apr 15
It's about that time..
When I originally began this blog several month ago, it was my ambitious intention to post a daily picture and a weekly update. HA.
We all see how well that went… 
Oh well. 
Life as a parent seems to be full of a lot of "oh well"s doesn't it? As well as an equal (or greater) amount of "OH S***"s…
However, it is about time for an update, if even a very brief one (because showering is NOT going on todays "oh well" list). 
Lincoln is crawling, standing, and making more noises every day. No first steps or first words yet, but hey, he's only 11months old, we're not worried. He does dance to music, which is pretty much the cutest thing the planet's ever going to see, and he has phenomenal rhythm. He's still the happiest baby ever, but gone are the easy going days of months 1-6. He's very, very opinionated; and rather dramatic. (I have no clue where those traits comes from…ehem.)
As we approach Lincoln's 1st birthday, something very interesting has come to our attention. Lincoln thinks mommy & daddy's "serious voice" (and the word "NO!") is hilarious. Oh, he knows what "no" means, he just doesn't care. At all. EVER. His favourite game is to crawl towards something he knows he's not allowed to have or touch, turn around to make sure Mom or Dad see, and go for it. Full speed, activate deadly-quickness. And then laugh and flirt as we spring (just a little too late!) into action, active deadly-seriousness. When we finally snatch him up and away, he babbles and snuggles oh so adorably. (Read: shamelessly.) Then, he tries it again. This time with a bigger grin.
So this is what happens when two head-strong, spoiled, charming people make a baby.
Oh s***…
I tremble in fear for…every year to come really.
Now before I head off to my blissful 5min temperature fluctuating shower I ask you: what am I supposed to do when there's TWO?? 
Especially considering I don't really know what to do with one yet.
Mar 25
jmconley said: What are your favorite foods these days?
Cheerios!
And pieces of whatever Mom & Dad are eating over baby food - always.
Mar 22
flapjacksblog2 said: Do you like to go on adventures?
We love adventures!
The zoo has been our favourite lately :) 
Mar 10
Lunch with Nana (:
Mar 07
Mar 04
Tomorrow we're going to a puppet show in the park, we're very excited (:
Mar 01
Today,
I'm having a particularly hard time wrapping my mind around having two babies.
Fortunately, the 6mo belly is helping…. >.>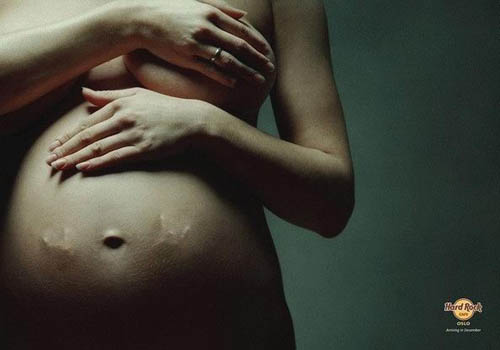 (this is obviously not me, in case the Hard Rock logo didn't tip you off, but here's to ROCKIN the bump…)
Also, any stretch mark cream recommendations from you other mommies?
I used Palmers Coco Butter religiously last pregnancy (before I even started showing!) and avoided marks until the last 2 weeks, where the marks came on with a horrible-terrible-no-good-very-bad vengeance. Needless to say, I found that unacceptable.